Sonnen-Terrasse

This new eco-district near the shores of Lake Zürich reconceives suburban development as a compact, carbon neutral village, offering multifamily housing designed to support social, spatial, and ecological diversity. In contrast to the sprawling linear homogeny of the existing context, the project's dense aggregation of eighteen two- and three-story buildings forms a pattern of clustered triads amidst a web of exterior courtyards.

Constructed from local cross-laminated timber, the building's floor plates are stacked and rotated to optimize views, natural ventilation, daylight and passive solar heating. Gently rotating the floor plates produces a sequence of shifted terraces: each spatially distinct with unique views, two exposures, and direct sun for the 126 apartments, which range from 40 to 124m2. The uppermost floor plate is folded into a self-structuring roof canopy, like an origami umbrella that strategically channels sunlight toward the apartments and plant life below.

At the neighborhood scale, the combined gestures—rotated floor plates, shifted terraces, and folded canopies—stimulate cooling summer breezes and mitigate winter winds by increasing the degree of texture within the urban fabric. The web of courtyards, as a result, double as networked ventilation corridors. This microclimate allows a suburban oasis of public outdoor space, diverse in both scale and function. Planted with native flora, the courtyards suggest a mosaic of restored ecosystems, from expansive meadows to shaded deciduous bowers, that further support the passive heating and cooling achieved architecturally. With thirteen perimeter access points, the courtyards carve a porous border, thus, preventing the eco-district from becoming a self-isolated island. Connecting the best of urban life and wildlife, Sun Terrace is a landscape in itself built to support social conviviality and natural sanctuary.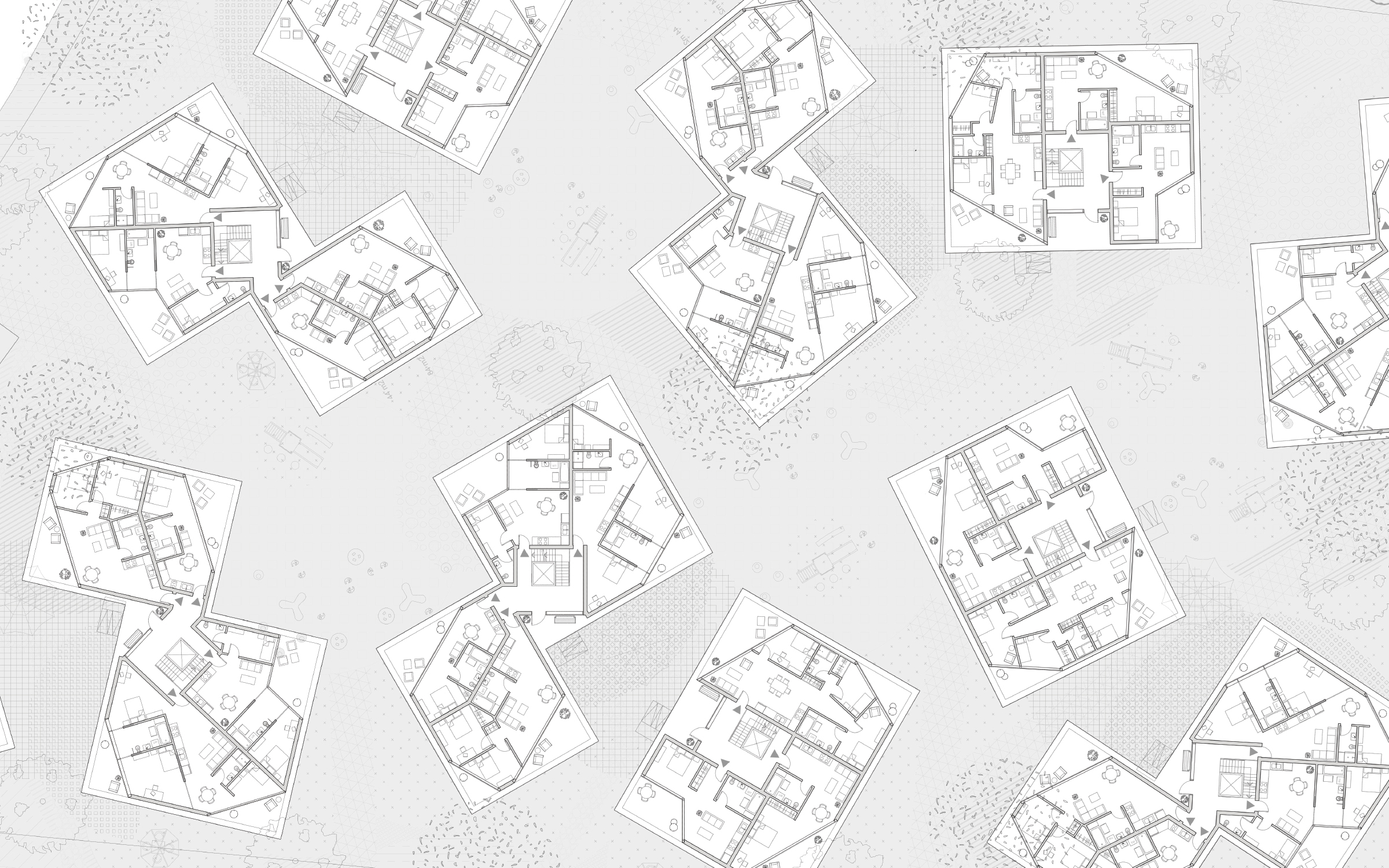 Client
Confidential

Location
Rapperswil-Jona, Switzerland

Program
126 residential apartment units

Area
12,000 m² / 129,167 ft²

Status
Competition

Team
Zhe Cao, Weizhong Chen, Andrew Heid, Po-Yen Hsieh, Agnieszka Gronek, Ce Li, Naifei Liu, Trendelina Salihu, Cynthia Wang, Yijun Wang, Veronica Gertrude Watson, Chuqi Xiao, Wanpeng Zu